Newly revealed video shows the #1 al-Nusra Front terrorist in Syria Abdullah al-Muhaysini admitting the White Helmets are Mujadadeen islamic fighters. 
Abdullah al-Muhaysini declares that the White Helmets (who reported on and attended the April 4th, 2017 Idlib chemical massacre) are mujahideen (Islamic jihadists).
The video directly above has now been removed from You Tube. A copy can be found at the following Live Leak link:
Al-Nusra Front Terrorist Leader in Syria States Oscar Winning White Helmets Are Mujahideen Islamic Terrorists
This second video below clearly shows al-Nusra Front leader Muhaysini addressing a meeting of ISIS fighters and encouraging them to join the al-Nusra Front terrorist group. This highlights the fact that all the groups attempting to overthrow the legitimate government in Syria are intertwined with the al-Nusra Front who are the largest terrorist group involved in the war against Syria. The fact they are the largest group fighting in Syria was  highlighted on CNN by US Congresswoman Tulsi Gabbard on January 25th, 2017 as show in the third video provided below. The above video of Muhaysini also stating that the White Helmets Syrian Civil Defense are Mujahideen highlights the fact that he personally acknowledges that all these groups are instruments which he utilizes and that they work together to achieve his murderous terrorism goals.
The 2nd video has now been removed by You Tube and also at my Live Leak account. This looks like a concerted effort to remove proof that al-Muhaysini directly requested ISIS fighters to join forces. I have included another You Tube exact copy version here:
Saudi cleric leader of al-Nusra Front asks ISIS to join his ranks
In the link above, he clearly asks ISIS to join his al-Nusra Front terrorist group. Here is a also a screen cap shot  from my Live Leak account where the video was also removed by a moderator. This moderator is particularly focusing on removing subject matter that exposes the terrorist ruses in Syria as is evident by the items he/she rejects when I post them to Live leak.
On November 10th, 2016 the U.S. Treasury Department finally designated al-Muhaysini as the lead terrorist in charge of al-Nusra Front (al-Qaeda) in Syria. This occurred one day after the US election. It is of serious note that the US government allowed him free reign for the entire last 5 and a half years of the Saudi and Qatari funded Syrian war.
Link to Treasury Dept. official release and statement:
Treasury Designates Key Al-Nusrah Front Leaders
https://www.treasury.gov/press-center/press-releases/Pages/jl0605.aspx?src=ilaw
11/10/2016
Action Targets al-Nusrah Front's Financial Facilitation Networks
WASHINGTON – The U.S. Department of the Treasury's Office of Foreign Assets Control (OFAC) took action today to disrupt al-Nusrah Front's military, recruitment, and financing operations. Specifically, OFAC designated four key al-Nusrah Front leaders – Abdallah Muhammad Bin-Sulayman al-Muhaysini, Jamal Husayn Zayniyah, Abdul Jashari, and Ashraf Ahmad Fari al-Allak – pursuant to Executive Order (E.O.) 13224, which targets terrorists and those providing support to terrorists or acts of terrorism. As a result of today's action, all property and interests in property of these designated individuals subject to U.S. jurisdiction are blocked, and U.S. persons are generally prohibited from engaging in transactions with them.
These designations were taken in coordination with the U.S. Department of State, which today named Jabhat Fath al Sham as an alias of al-Nusrah Front – al-Qa'ida's affiliate in Syria.
"From recruiting fighters to raising funds, these sanctioned individuals are responsible for providing key financial and logistical support to al-Nusrah Front," said John E. Smith, Acting OFAC Director. "Treasury will continue to target al-Nusrah Front's financial networks and choke off their access to the international financial system."
Abdallah Muhammad Bin-Sulayman al-Muhaysini
Abdallah Muhammad Bin-Sulayman al-Muhaysini was designated for acting for or on behalf of, and providing support and services to or in support of, al-Nusrah Front.
As of late 2015, al-Muhaysini was an accepted member of al-Nusrah Front's inner leadership circle. As of July 2015, Abdallah al-Muhaysini served as al-Nusrah Front's religious advisor and represented al-Nusrah Front in an Idlib Province, Syria, military operations room. He has been involved in recruiting fighters to join al-Nusrah Front and helping to form a new al-Nusrah Front "state" in northern Syria. In April 2016, Muhaysini launched a campaign to recruit 3,000 child and teenage soldiers across northern Syria for al-Nusrah Front.
Al-Muhaysini has played a crucial role in providing financial aid to al-Nusrah Front. Between 2013 and 2015, al-Muhaysini raised millions of dollars to support al-Nusrah Front governance efforts in Idlib Province, Syria. As of early October 2015, al-Muhaysini had set up institutions providing financial aid to terrorist groups, including a highly successful campaign that he claimed had secured $5 million in donations to arm fighters.
New video with White Helmets attending rally with al-Nusra Front leader Abdullah al-Muhaysini in summer 2016 –
White Helmets Caught On Camera With Abdullah al-Muhaysini the Saudi Cleric Leader of Al-Nusra Front Terrorist Group (Al-Qaeda in Syria). Read more at https://www.liveleak.com/view?i=e61_1494421840#hpMs1BfB4awz5Ih0.99
Link here to my recent posts exposing terrorist al-Muhaysini:
https://jackpineradicals.com/boards/topic/a-look-at-the-main-saudi-cleric-leading-terrorist-operations-in-aleppo-syria/
There is also more extensive links and video at the following blog that tie Hadi Abdullah and al-Muhaysini together with ISIS and al-Nusra Front. Graphic Warning as link features numerous beheadings: 
The video below features US Congresswoman Tulsi Gabbard explaining that al-Nusra Front are the largest terrorist group in Syria. She does this as she cuts through the obvious and pathetic talking points of CNN propagandist stooge Jake Tapper. His talking points fail miserably in the video and below I highlight the father of Bana Albed (who Jake smugly promotes) as a terrorist.
A collage of photos links Bana family friends………….to child beheaders….and summer 2016 Boy in the Ambulance photographer.
Bana family with Erdogan in Turkey…….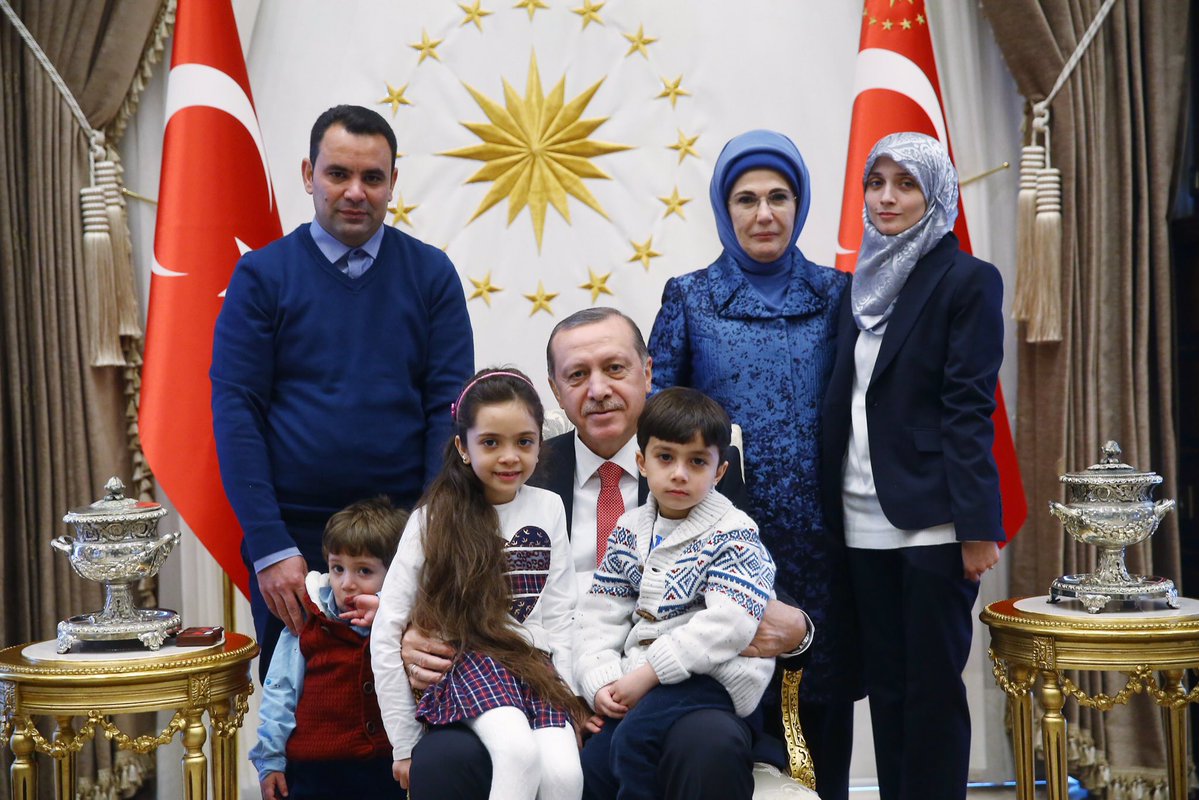 Bana's father al-Abed Ghassan with al-Nusra Front terrorists…..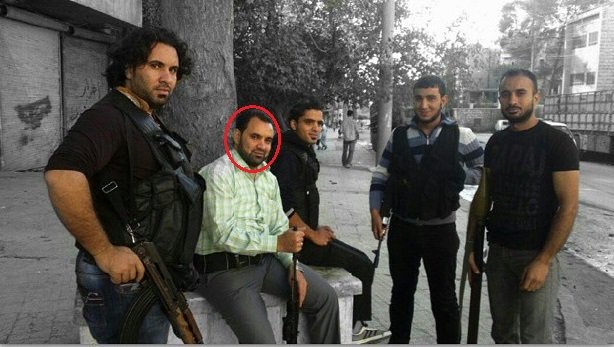 Note al-Nusra Front (al-Qaeda) symbol on wall……..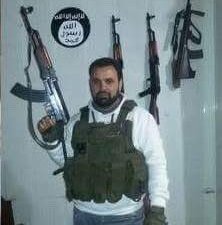 7 year old Bana with al-Nusra Front propaganda disseminator Hadi Abdullah….
Hadi Abdullah with al-Nusra Front leader al-Muhaysini…….
Hadi Abdullah with al-Nusra Front/ISIS…….
The video below highlights numerous instances that Hadi Abdullah (Bana family friend and al-Muhaysini partner) is hugging, congratulating and kissing members of al-Nusra front in Syria which is under the command of Abdullah al-Muhaysini.
The video of Hadi Abdullah kissing, hugging and congratulating terrorists has also been removed from You Tube. Here's is a Live Leak link to the video which was removed.
Hadi Abdallah- US Embassy Congratulated 'Reporter' Caught on Camera Embracing al-Nusra Front Terrorists
Amazingly, Hadi Abdullah is also featured at the "Reporters Without Borders" website as a 2016 recipient of the TV 5 Monde Press Freedom Prize. Link here:
https://rsf.org/en/news/2016-rsf-tv5-monde-press-freedom-prize-prize-awarded-syrian-and-chinese-journalists-website
Excerpt: The 2016 Reporters Without Borders (RSF) – TV5 Monde Press Freedom Prize will be awarded to Syrian reporter Hadi Abdullah, the Chinese news website 64Tianwang, and Chinese citizen journalists Lu Yuyu and Li Tingyu at a ceremony in Strasbourg tomorrow evening (8 November).
Hadi Abdullah is being awarded the prize in the journalist category. He is a 29-year-old freelance reporter who has braved many dangers to cover the war in Syria, entering high-risk areas where few colleagues venture in order to film and to enable civil society's actors to speak to the outside world. He has had many brushes with death and was briefly kidnapped by the Al-Nusra Front last January. His cameraman, Khaled al-Issa, was killed in June by an explosive device left outside the home they shared, and Abdullah himself was badly injured by the blast.
The US Embassy in Syria was also caught congratulating Hadi Abdullah for that French Reporters Without Borders award on their Twitter feed as shown via the link below.
Read more at http://www.liveleak.com/view?i=dcc_1478798630#BmD0JBISzfJj2yDJ.99
The following video highlights another terrorist propaganda disseminator, Bilal Abdul-Kareem. He also interviews and reaps praise on Abdullah al-Muhaysini the lead al-Nusra front terrorist in Syria. Bilal was recently given an award by CNN and Amnesty International (as shown below)
The video above has also been removed. The same deleted video of Bilal Abdul Kareem can now be found within the following video link:
White Helmets terrorist links fully Exposed [Graphic!] (Tapestry of Terror mirror)
Amnesty International Gives Award to Reporter Who Fawned Over US State Dept. Designated Terrorist and al-Nusra Front Leader al-Muhaysini
Read more at http://www.liveleak.com/view?i=4a2_1479168294#SuWs1xi8MO1qWpaa.99
Link to Amnesty Internation Award for Bilal Abdul Kareem
http://www.prixbayeux.org/pbc2016-palmares/?lang=en
TELEVISION TROPHY – INTERNATIONAL JURY
AWARDED BY AMNESTY INTERNATIONAL
1st Prize
Arnaud COMTE and Stéphane GUILLEMOT
FRANCE 2
Mossoul : fuir à tout prix
IRAQ
2nd Prize
Clarissa WARD and Bilal Abdul KAREEM
CNN
Bilal Abdul-Kareem was also featured in the US media's "Last Voices in Aleppo" propaganda campaign in December 2016. It's noteworthy that the entire US media has now gone quiet about what is going on in Aleppo after the Syrian and Russian armed forces liberated the city. The US media has also stopped reporting on the White Helmets as there headquarters was found to be empty and the $100 million in funding for them obviously did not go to any part of East Aleppo. The question remains to be answered as to where the money actually went.
What the images, videos and links above show is that these individuals are all linked together. They are all part and parcel of the same propaganda ruse…….and the US media has openly worked to exploit that ruse and lie to the American people and the world as a whole. This is the greatest fraud of the 21st century.
Additional links here covering other aspects and links between these individuals:
http://jackpineradicals.com/boards/topic/shaming-the-msm-that-ran-with-the-terrorist-last-messages-from-aleppo-campaign/
http://jackpineradicals.com/boards/topic/child-exploitation-exposing-the-msms-use-of-7-year-old-bana/
http://jackpineradicals.com/boards/topic/doubling-down-exposing-hollywoods-love-for-the-white-helmet-terrorists/
White Helmets Exposed on Twitter features additional photos of various White Helmets who are caught with weapons and conducting terrorist acts: 
We still need to talk about the Boy in the Ambulance to understand fully how the corrupt and complicit US and EU media exploited these children and covered up for the terrorists that have been destroying lives and infrastructure in Syria…….
Please help spread this post far and wide so people can see what is really going on with the regime change agenda that western powers are orchestrating in Syria.
Saudi Commander in Jabhat al-Nusra Gives a Speech Before Aleppo Prison Attack, Asks ISIS to join him
The video directly above has once again been made unavailable. Here is another copy cued up directly to the remarks by Abdullah al-Muhaysini asking ISIS to join his ranks.
Abdullah al-Muhaysini, the Saudi Cleric leader of al-Nusra Front (al-Qaeda in Syria) asks ISIS to join his ranks