Abdallah al-Muhaysini, a Pivotal Figure in the Islamist terrorist attacks on Syria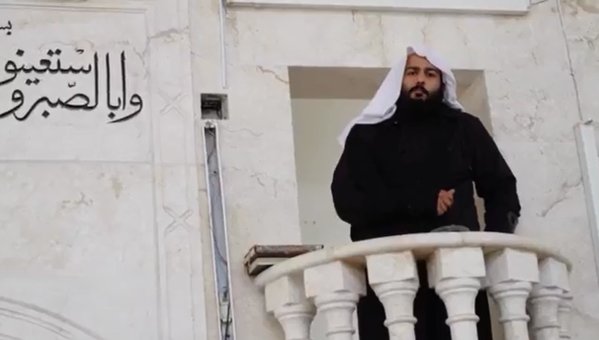 Abdallah al-Muhaysini came to Syria in 2013 to partake in the western orchestrated overthrow of Bashar al-Assad. He presents a unique case of the outsized role a single person can play in the lawless world of the so called Syrian rebellion. He has positioned himself at the center of radical jihadist politics, fund raising, and legal opinion.
Al-Muhaysini hails from the al-Qassim region in Saudi Arabia. Prior to his arrival to Syria, he completed his MA and PhD studies in Islamic Jurisprudence in the Imam Muhammad ibn Saud Islamic University in Riyadh, with a dissertation on "The Treatment of Prisoners of War in Islamic Jurisprudence." A self-professed Salafi jihadist scholar, al-Muhaysini is often seen on the battlefields of northern Syria together with various Islamist factions, prominent among whom are Ahrar al-Sham and Jabhat al-Nusra (JN), in addition to other factions affiliated with the Jaish al-Fateh coalition. He has set up institutions that provide military and financial aid to jihadist groups, and runs a proselytization (Dawah) center (named "The Jihad's Callers Center") in Idlib Province.
Al-Mushaysini holds the title General Judge of Jaish al-Fateh. He is highly revered in the jihadi-Salafi landscape (notwithstanding Islamic State adherents), embracing a leading role in the warfare – most recently in the Jabha al-Nusra takeover, together with the Turkistan Islamic Party (TIP) of the Abu al-Dhuhur Air Base and in the Jaish al-Fatah battles for control over al-Fuah this month (September 2015). During clashes in the last year, he was documented delivering inflammatory speeches to the troops and bestowing religious blessing upon suicide bombers before embarking on their missions.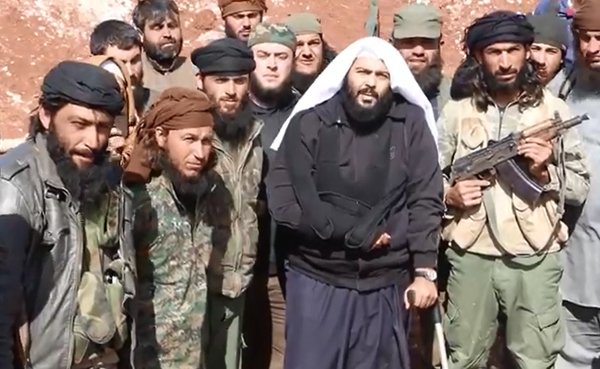 Saudi cleric motivation speech before the attack on Aleppo | October 28th 2016
Read more at http://www.liveleak.com/view?i=d9f_1477865627#0CGBjQ4WjhvF3GUg.99
In the following video Saudi cleric Abdallah al-Muhaysini directly asks ISIS to join him in jihad in Syria:
The above You Tube video and Live Leak link have both now been deleted. Fortunately, there are other links of the same video. The ISIS statement can be found at this Tapestry of Terror link:
Al-Muhaysini asks ISIS to join his ranks
Something not very widely known in western countries, is that he is considered a hero in the Sunni Gulf States where he is regularly featured on Dubai's Orient TV news channel and al-Jazeera.
More on the terrorists propaganda arm Orient TV in the UAE here:
https://jackpineradicals.com/boards/topic/understanding-the-orient-tv-propaganda-arm-of-the-gulf-state-jihadists-in-syria/
Excerpt:
Orient News TV, based in UAE, and broadcasts to Syria, Jordan, Saudi Arabia and United Arab Emirates.
Orient News TV aims to address Syrian viewers in specific and the Arab world in general, with cultural and entertainment programming as well as information and news. Orient TV opened in Damascus in February 2009, employing 149 Syrians. However the government soon had doubts about having granted a license to Orient TV, and in July 2009 Syrian security forces raided Orient TV's offices. As a consequence Orient TV moved to Dubai. The station began broadcasting outside of Syria with coverage of the first civil courts established in Idlib province.
Ownership
Ghassan Aboud the founder, owner of Orient Media Network
The project's founder and owner is Syrian business man Mohammad Ghassan Aboud, born in 1967. He holds a bachelor's degree in media from Damascus University in 1991. He left Syria for the United Arab Emirates at the beginning of the 1990s, and worked in public relations in the Abu Dhabi Engineers Association Branch, and was then Media Officer in the Emirates Equestrian Racing Federation.
Leading Saudi cleric preaching jihad –
Leading al-Nusra Front (al-Qaeda) in Syria into battle: Note Red Crescent (Red Cross) bag at the 47 second mark.
Certain aid groups have been filmed on occasion working alongside the terrorists and proxy groups designed as NGO's, examples here:
US and UK Agencies, Media and Governments Cover For White helmet Terrorists in Syria
Read more at http://www.liveleak.com/view?i=18f_1478048973#7wtopbqSpvDkW8UP.99
Open Collusion: Multi-incidents of Red Cross Working Side By Side With White Helmet Terrorist Front Group
Read more at http://www.liveleak.com/view?i=8fa_1477944068#WwBxqyCGlPEkdwAU.99
Western Government Backed White Helmets 'Humanitarian Aid Workers' Enjoy An Allah-Akbar Fest With al-Nusra (al-Qaeda) Terrorists
Read more at http://www.liveleak.com/view?i=564_1477535559#sP2hVIOERGSx71G7.99
Joe Biden Slips Up and Admits Saudi Arabia, Qatar and Turkey Finance ISIS, al-Nusra Front Terrorists
Read more at http://www.liveleak.com/view?i=879_1477402880#WG4WhZsmzt28f6AO.99
Proof of US and UK funded White Helmets operating alongside al-Nusra Front terrorists in Syria
The UK/US/Saudi/Soros financed White Helmets are seen in the above video operating side by side with radical Islamic jihadists in East Aleppo, Syria. UK media outlets such as the Guardian, the Independent, the BBC and ITV4 were recently pushing for these 'White Helmet' (read terrorists) to receive a Nobel Peace prize. This shows you how far and how low the UK media has stooped in their 'reporting'. These media outlets and this group are exploiting children to place on their front pages to fool the public while they nefariously support terrorism.
In August 2016 CNN tried rebranding al-Nusra Front (al-Qaeda) and even gave them air time to explain their name change……..gotta love that CNN 'reporting'!
Video exposes how CNN provides air time to legitimize al-Qaeda terrorists that conducted 9/11
Read more at http://www.liveleak.com/view?i=2f9_1476672968#Jo5MZWv8jWcCsFuO.99
The Daily Mail once did an expose' on lead Saudi cleric/terrorist Abdullah al-Muhaysini, but conveniently left out the fact that he hailed from Saudi Arabia.
http://www.dailymail.co.uk/news/article-3007377/Al-Qaeda-militants-Syria-parade-captured-regime-helicopter-airman-video-demand-radical-cleric-released.html
Excerpt:
Al Qaeda militants in Syria parade captured regime helicopter airman on video and demand radical cleric is released
Airman was seen in video released by Al Qaeda affiliated Jabhat al-Nusra
Notorious militant Abdullah al-Muhaysini stands over him wielding a knife
Jihadi calls for the release of another Al Qaeda extremist, Mus'ab as-Suri
Airman was among at least four people captured near Idlib yesterday
To sum up, what we have here is a Saudi/US backed Islamic cleric who leads the Islamic terrorist groups in Syria against the Syrian government. He is the leader of al-Nusra Front (al-Qaeda in Syria) and other affiliated groups. Note that all the groups are intertwined and he is the main leader of all of them. This is left out of the US media narrative, and obscured by the US State Department, as is the fact that he hails from Saudi Arabia's most prominent university and is a widely promoted cleric there.
The videos above clearly show him recruiting ISIS fighters to join his army. He is regularly featured on the UAE Dubai's Orient TV network, and CNN recently provided his terrorist group air time to explain their name change. He uses his provided airtime in the Gulf States to solicit funds for his Islamic fatwa/jihad in Syria. Orient TV in Dubai openly facilitates this propaganda and declares him to be a freedom fighter against the infidels (namely Christians and Allawites in Syria).
There are numerous instances on camera of the Red Crescent and the White Helmets working side by side with the terrorist groups he commands. The White Helmets are a fake NGO terrorist front group posing as humanitarians and receiving extensive pro-White Helmet media coverage in the US, UK, Europe, Canada and Australia/New Zealand. They were trained by the Red Cross in 2013 as proven by the links above. What we are looking at here is one of the greatest lies ever told and its all easily provable. The western Powers That Be and the Middle Eastern Gulf States are funding and promoting the terrorists in the Middle East. The leader of which, one Abdallah al-Muhaysini is on camera in the videos above openly soliciting ISIS fighters to join him. Thats a story you will not see in any US media outlet.
Extensive Clarity of Signal links proving the White Helmets are a terrorist front group:
http://jackpineradicals.com/boards/topic/huge-video-and-data-cache-on-the-fake-ngo-syrian-white-helmet-jihadists/
http://jackpineradicals.org/showthread.php?10226-The-Syria-White-Helmets-Exposed-as-US-UK-Agents-Embedded-with-Al-Nusra-and-ISIS
https://jackpineradicals.com/boards/topic/white-helmets-neutral-heroes-or-pro-war-pr-campaign/
https://jackpineradicals.com/boards/topic/avaaz-the-online-pro-war-propagandist-and-color-revolution-ngo/
https://jackpineradicals.com/boards/topic/crosstalkrt-who-are-the-white-helmets-guests-vanessa-beeeleyeva-bartlet/
https://jackpineradicals.com/boards/topic/syrian-rebel-white-helmets-actually-funded-by-u-s/
https://jackpineradicals.com/boards/topic/journalist-eva-bartlett-im-back-from-syria-the-media-is-lying-to-you/
https://jackpineradicals.com/boards/topic/how-the-white-helmets-became-international-heroes-while-pushing-u-s-military-in/
https://jackpineradicals.com/boards/topic/uk-column-news-on-fake-white-helmets-terrorists-thursday-6-october-2016/
https://jackpineradicals.com/boards/topic/white-helmets-facilitate-execution-with-al-nusra-highly-graphic-warning/
https://jackpineradicals.com/boards/topic/syrian-girl-explains-how-the-ceasefire-in-syria-broke-down/
https://jackpineradicals.com/boards/topic/max-blumenthal-at-alternet-busting-the-fake-syrian-white-helmets-wide-open/
One more video where he names names in Saudi Arabia who are backing him and paying for the weapons.
Robert Parry at Consortium News has more on the Saudi backed Syrian terrorists…
https://consortiumnews.com/2016/10/29/the-de-facto-usal-qaeda-alliance/
Exclusive: Buried deep inside Saturday's New York Times was a grudging acknowledgement that the U.S.-armed "moderate" rebels in Syria are using their U.S. firepower to back an Al Qaeda offensive, reports Robert Parry.
By Robert Parry
A curious aspect of the Syrian conflict – a rebellion sponsored largely by the United States and its Gulf state allies – is the disappearance in much of the American mainstream news media of references to the prominent role played by Al Qaeda in seeking to overthrow the secular Syrian government of Bashar al-Assad.
There's much said in the U.S. press about ISIS, the former "Al Qaeda in Iraq" which splintered off several years ago, but Al Qaeda's central role in commanding Syria's "moderate" rebels in Aleppo and elsewhere is the almost unspoken reality of the Syrian war. Even in the U.S. presidential debates, the arguing between Republican Donald Trump and Democrat Hillary Clinton has been almost exclusively about ISIS, not Al Qaeda.
For instance, the conflict in Aleppo between Syrian government forces and rebels operating primarily under Al Qaeda's command is treated in the Western media as simply a case of the barbaric Assad and his evil Russian ally Vladimir Putin mercilessly bombing what is portrayed as the east Aleppo equivalent of Disney World, a place where innocent children and their families peacefully congregate until they are targeted for death by the Assad-Putin war-crime family.
The photos sent out to the world by skillful rebel propagandists are almost always of wounded children being cared for by the "White Helmet" rebel civil defense corps, which has come under growing criticism for serving as a public-relations arm of Al Qaeda and other insurgents. (There also are allegations that some of the most notable images have been staged, like a fake war scene from the 1997 dark comedy, "Wag the Dog.")
Finally on November 10th, 2016 (The day after the US election) Muhaysini has been designated a terrorist. This BS is unforgivable as the Obama admin knew all along what this bastard was up to.
Treasury Designates Key Al-Nusrah Front Leaders
https://www.treasury.gov/press-center/press-releases/Pages/jl0605.aspx?src=ilaw
11/10/2016
Action Targets al-Nusrah Front's Financial Facilitation Networks
WASHINGTON – The U.S. Department of the Treasury's Office of Foreign Assets Control (OFAC) took action today to disrupt al-Nusrah Front's military, recruitment, and financing operations. Specifically, OFAC designated four key al-Nusrah Front leaders – Abdallah Muhammad Bin-Sulayman al-Muhaysini, Jamal Husayn Zayniyah, Abdul Jashari, and Ashraf Ahmad Fari al-Allak – pursuant to Executive Order (E.O.) 13224, which targets terrorists and those providing support to terrorists or acts of terrorism. As a result of today's action, all property and interests in property of these designated individuals subject to U.S. jurisdiction are blocked, and U.S. persons are generally prohibited from engaging in transactions with them.
These designations were taken in coordination with the U.S. Department of State, which today named Jabhat Fath al Sham as an alias of al-Nusrah Front – al-Qa'ida's affiliate in Syria.
"From recruiting fighters to raising funds, these sanctioned individuals are responsible for providing key financial and logistical support to al-Nusrah Front," said John E. Smith, Acting OFAC Director. "Treasury will continue to target al-Nusrah Front's financial networks and choke off their access to the international financial system."
Abdallah Muhammad Bin-Sulayman al-Muhaysini
Abdallah Muhammad Bin-Sulayman al-Muhaysini was designated for acting for or on behalf of, and providing support and services to or in support of, al-Nusrah Front.
As of late 2015, al-Muhaysini was an accepted member of al-Nusrah Front's inner leadership circle. As of July 2015, Abdallah al-Muhaysini served as al-Nusrah Front's religious advisor and represented al-Nusrah Front in an Idlib Province, Syria, military operations room. He has been involved in recruiting fighters to join al-Nusrah Front and helping to form a new al-Nusrah Front "state" in northern Syria. In April 2016, Muhaysini launched a campaign to recruit 3,000 child and teenage soldiers across northern Syria for al-Nusrah Front.
Al-Muhaysini has played a crucial role in providing financial aid to al-Nusrah Front. Between 2013 and 2015, al-Muhaysini raised millions of dollars to support al-Nusrah Front governance efforts in Idlib Province, Syria. As of early October 2015, al-Muhaysini had set up institutions providing financial aid to terrorist groups, including a highly successful campaign that he claimed had secured $5 million in donations to arm fighters.