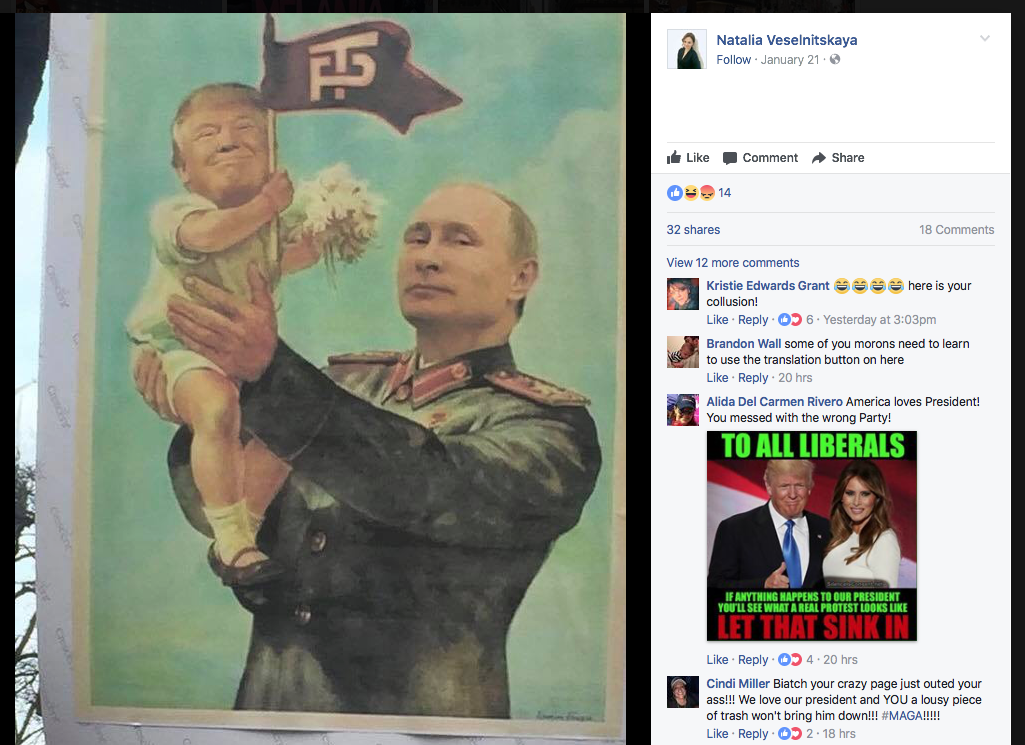 So much is happening now, and so very fast. Things are spiraling further and further into the realm of insanity as more is revealed about the nefarious actions of the Deep State regarding the wars overseas and covert support for terrorist groups, the attempted overthrow of the President of the United States, and the implementation of the mass propaganda anti-Russia barrage upon the American people. This post will cover some of the key events this past week in order to help US and global citizens realize the most important aspects of what is really going on.
To start with, it appears that the Russian woman who met with Donald Trump Jr. may have been part of a frame-up due to the fact that her Facebook page reveals her to have posted a number of anti-Trump images that fall in line with the media promoted divisive SJW agenda. The images show that she was also involved in soliciting the US Congress for the passing of the Magnitsky Act against Russia and that she had images on her page from inside Senator John McCains congressional office. Those images can be found in the following video and at her Facebook page which are linked below.
https://www.facebook.com/NataliaVeselnitskaya
If this is indeed a set-up then it may be legally considered as entrapment. The Trump administration may have legal grounds for a case here should they wish to pursue it.
U.S. Attorneys » Resources » U.S. Attorneys' Manual » Criminal Resource Manual » CRM 500-999 » Criminal Resource Manual 601-699
Entrapment—Elements
https://www.justice.gov/usam/criminal-resource-manual-645-entrapment-elements
Entrapment is a complete defense to a criminal charge, on the theory that "Government agents may not originate a criminal design, implant in an innocent person's mind the disposition to commit a criminal act, and then induce commission of the crime so that the Government may prosecute." Jacobson v. United States, 503 U.S. 540, 548 (1992). A valid entrapment defense has two related elements: (1) government inducement of the crime, and (2) the defendant's lack of predisposition to engage in the criminal conduct. Mathews v. United States, 485 U.S. 58, 63 (1988). Of the two elements, predisposition is by far the more important.
TruthFeed News posted this story regarding the matter….
Loretta Lynch Helped Russian Lawyer Who Met with Don Jr. Enter the U.S.
BY TRUTHFEEDNEWS – JULY 13, 2017
A new bombshell report by The Hill calls into question why Loretta Lynch allowed the Russian lawyer who met with Don Jr. into the United States under "extraordinary circumstances."
Could this have been a sophisticated Obama admin spearheaded sting operation?
From The Hill:
The Russian lawyer who penetrated Donald Trump's inner circle was initially cleared into the United States by the Justice Department under "extraordinary circumstances" before she embarked on a lobbying campaign last year that ensnared the president's eldest son, members of Congress, journalists and State Department officials, according to court and Justice Department documents and interviews.
This revelation means it was the Obama Justice Department that enabled the newest and most intriguing figure in the Russia-Trump investigation to enter the country without a visa.
———————–
In other related matters, CNN is in full anti-Trump overdrive with the Trump Jr. story. In the following video, Fox News Commentator Tucker Carlson points out that CNN spent 2 hours and 16 minutes of its three hour morning show covering their promoted Trump/Russia collusion narrative.
Tucker Carlson has also come under additional pressure from the Deep State and is being labeled as a Putin/Assad apologist simply because he doesn't toe the corrupt media promoted line and accept and believe the lies the Deep State is pumping out incessantly. This is happening to any American citizen who questions the dark actions of the government now. Like a scene out of the Kubrick classic "Dr. Strangelove", in the following video Lt. Colonel Ralph Peters spits vitriol as he attempts to shame Tucker Carlson and it brilliantly backfires on him.
Caveat: I used to have some disdain for Tucker during his bowtie wearing days when I was trying to get info out about the Iraq War lies, but there is no doubt now that he is one of the best commentators tearing into all this geopolitical and domestic political insanity. Like CBS46 reporter Ben Swann, he is really taking a stand these days and clearly recognizes that the enemy is not foreign…..it is domestic.
—————-
In this third video, CNN truly makes an ass of itself as Paul Begala openly advocates for bombing Russia, which would of course kick off WW3 and end all life on the planet. Begala's words are pure insanity.
————————-
Moving right along………Zero Hedge has an excellent article up on the "Overton Window" which is also known as the window of discourse, which is the range of ideas the public will accept…. The term is derived from its originator, Joseph P. Overton (1960–2003), a former vice president of the Mackinac Center for Public Policy. The Overton Window is a concept in political sociology referring to the range of acceptable opinions that can be held by respectable people. "Respectable" of course means that the subject can be integrated with polite society. Respectability is a strong precondition on the ability to have open influence in the mainstream.
This important article sums up why people like Tucker Carlson and even Jeremy Corbyn in the UK are coming under pressure from the Deep State due to them reporting things that the Deep State and its media vassals would prefer not be mentioned. Intellectual debate about important revelations is being suppressed and pressure is being brought to bear on those who do not follow the establishment globalist line that blames Russia, Putin, Assad and Trump for everything under the sun.
That excellent article can be found here: http://www.zerohedge.com/news/2017-07-10/americans-are-living-under-intellectual-martial-law
———————————–
Regarding the war in Syria and the Deep State cover up of their White Helmet terrorist proxy group, Peter Hitchens has presented a thorough analysis of the OPCW anomalies in their report on the April 4th, 2017 chemical weapons attack in Syria that led to President Trump initiating airstrikes on the Syria airforce.
Peter Hitchens Dissects OPCW Anomalies In Report on Chemical Attack in Syria – Daily Mail UK
http://hitchensblog.mailonsunday.co.uk/2017/07/who-gassed-whom-in-syria-we-dont-know-please-dont-be-rushed-into-war.html
Excerpt:
What do we actually know about what happened at Khan Sheikhoun? As I have pointed out several times, very little. I summed up the problem here http://hitchensblog.mailonsunday.co.uk/2017/04/peter-hitchens-our-noble-cause-dropping-bombs-on-behalf-of-al-qaeda.html. I reproduce this passage for those who may have missed it the first time: 'Any report which comes from that region is filtered through people who you never see in the film that does get out. I have met men like them on my travels. I would not want to offend them.
These are the Jabhat Fateh al-Sham, alias the Al-Nusra Front, alias Al Qaeda, the Syrian 'opposition' which we in the West have been supporting for several years. Yes, that's right, the people we have been helping are not Liberal Democrats or Girl Guides or Quakers. No, they are the same movement which destroyed Manhattan's Twin Towers. The only big difference between them and Islamic State is that we drop bombs on Islamic State. And we drop bombs on behalf of Al-Nusra/Al Qaeda.
I've noted here before how these people have publicly kidnapped, killed and even sunk their teeth into the entrails of dead enemies. But in this case, another small detail may make you wonder about what you are being told. In some reports of the alleged atrocity, a supposed 'British doctor', Shajul Islam, was quoted or shown on the spot, described as a 'volunteer treating victims in hospital'. Actually, he shouldn't really be called a British doctor. He was struck off the British medical register for 'misconduct' in March 2016.
The General Medical Council won't say why. And in 2012 Shajul Islam was charged with terror offences in a British court. He was accused of imprisoning John Cantlie, a British photographer, and a Dutchman, Jeroen Orleans. Both men were held by a militant group in Syria and both were wounded when they tried to escape. Shajul Islam, it was alleged, was among their captors. Shajul Islam's trial collapsed in 2013, when it was revealed that Mr Cantlie had been abducted once again, and could not give evidence. Mr Oerlemans refused to give evidence for fear that it would further endanger Mr Cantlie. Mr Oerlemans has since been killed in Libya. So the supposedly benevolent medical man at the scene of the alleged atrocity turns out to be a struck-off doctor who was once put on trial for kidnapping.'
End Excerpt-
Much more at link above……
Extensive information proving the White Helmets are terrorists is also available at the White Helmets Exposed Twitter feed link above.
The original OPCW report is linked here: https://www.opcw.org/fileadmin/OPCW/Fact_Finding_Mission/s-1510-2017_e_.pdf
——————————-
On a related note, it looks like Director of CIA, Mike Pompeo, was the one who may have misled Trump about the KhanSheikhoun alleged chemical weapons attack……here's the words from his own mouth:
QUOTE: "I got a call from the President one afternoon back in April. He wanted to talk about some disturbing images that were coming in from Syria. I'm sure you saw many of them yourselves—scenes of innocent civilians writhing in agony, the apparent victims of a chemical weapons attack.
The President had a very direct message for me: Find out what happened. So we immediately assembled a crack team of Agency experts. They began piecing together the evidence, working closely with some outstanding partners from across the Intelligence Community.
The next day the President called his cabinet together. As we sat down, he turned to me and asked what we had learned. I told him that the IC had concluded that a chemical weapon had indeed been used in the attack, and that it had been launched by the Syrian regime.
The President paused a moment and said: Pompeo, are you sure? I'll admit that the question took my breath away. But I knew how solid the evidence was, and I was able to look him in the eye and say, Mr. President, we have high confidence in our assessment.
The President never looked back. Based on the Intelligence Community's judgment, he made one of the most consequential decisions of his young administration, launching a strike against the very airfield where the attack originated.
So I can assure you that when it comes to having the confidence of the Commander in Chief, CIA and the Intelligence Community are in great shape."
Link to CIA posting on the matter: https://www.cia.gov/news-information/speeches-testimony/2017-speeches-testimony/director-pompeo-delivers-remarks-at-insa.html
————————————-
To summarize all of the above, the Deep State and their media vassals are in melt down mode and things keep backfiring on them, hence the reason they seek to intimidate Tucker Carlson, Jeremy Corbyn and others. There was no collusion with Trump during the US election. The DNC emails were not hacked, they were leaked……most likely from an insider such as Seth Rich, who is, incidentally, deceased due to being shot multiple times in the back in Washington, D.C. in the summer of 2016. It is also possible that via Natalia Veselnitskaya, the Deep State and DNC may have set up Trump Jr. to make it look like there was Russian collusion during the election. What they most likely wanted to cover-up in the first place was their own covert support for FSA/White Helmet terrorists in Syria, as well as the Clinton/Podesta teams taking of tens of millions in bribes from the Saudi and Qatari terror states that the Wikileaks emails clearly show were financing ISIS. The Wikileaks emails reveal the Podesta team openly discussed this fact before deciding to take the money. That information would have been incredibly damaging to them during the election, and apparently it was.
Link here to actual emails showing the aforementioned discussion: https://clarityofsignal.com/2017/01/08/wikileaks-reveals-saudi-arabia-and-qatar-giving-money-to-both-clinton-and-isis/
Thus, it is possible that Loretta Lynch approved the special circumstances visa for Natalia Veselnitskaya for nefarious reasons to undermine the future President of the United States, and that Mike Pompeo intentionally misled President Donald Trump about the false flag sarin attack on April 4th, 2017, which was actually conducted by the White Helmets. When looking at all these facts, then it also becomes much, much more obvious why the media is in major melt-down mode and constantly pumping out anti-trump/anti-Russia stories while completely ignoring the actions of al-Nusra Front (al-Qaeda) terrorists in Syria and all other news stories related to the Wikileaks revelations about the Clinton Foundation and support for terrorists and terror states such as Saudi Arabia. What this all points to it is that…….this time around………the enemy is not foreign……..it is domestic. And, insanely, before admitting those facts, CNN commentators are calling for all out nuclear war with Russia.
Additional photos from the Facebook account of Natalia Veselnitskaya –
Additional video of Tucker Carlson taking on a Deep State warmonger who attempts to intimidate and shame him for his political views. This is a pretty good heated exchange and well worth including to emphasize the smear tactics of these treasonous liars.