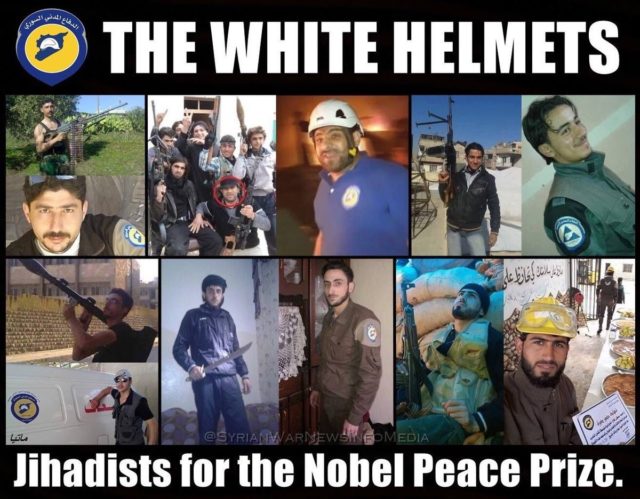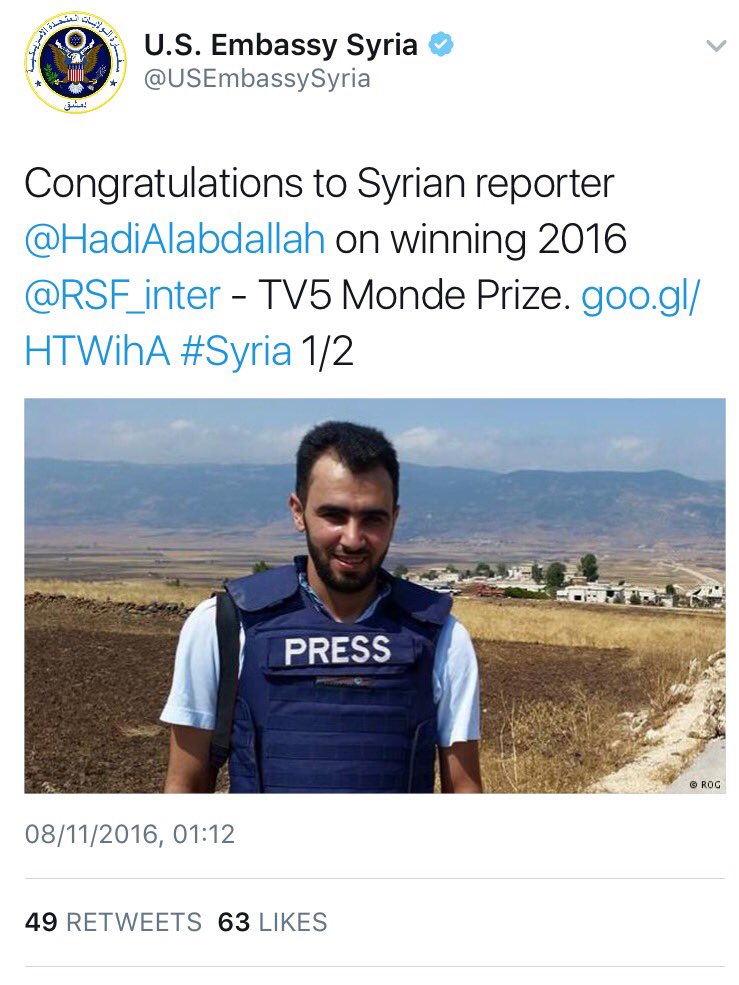 SYRIAN WHITE HELMETS LEADER SPEAKS AT GEORGETOWN UNIVERSITY
Democracy Now interviews Saving Syria's Children "napalm" doctor Rola Hallam without divulging that her father is a prominent Syrian National Council advocate and her charity is linked to armed fighters.
Links exposing Democracy Now/ BBC deception-
Democracy Now link – Syria Has Become a Circus of Death: Doctor Warns of Growing Humanitarian Crisis as War Rages On
BBC link – Fabrication in BBC Panorama "Saving Syria's Children"
Al-Nusra Sharia spokesman Abdullah al-Muhaysini acknowledges the White Helmets are Mujahideen (Islamic jihadists)
Video directly above has been removed from You Tube. A copy can be found here:
Al-Nusra Front Terrorist Leader in Syria States Oscar Winning White Helmets Are Mujahideen Islamic Terrorists
White Helmets Meeting in FSA Headquarters proves direct affiliation with terrorist groups that make up the FSA –
Video showing White Helmets meeting in FSA headquarters has been removed from You Tube. A back up copy of the exact same video can be found here:
Video Links White Helmets Who Received Oscar Directly to FSA Terror Groups White Helmets caught sharing the same headquarters with the FSA who are made up of terror groups. George Clooney's buddies side by side with terrorists.
2nd video of same meeting above has now been removed from You Tube.
2nd video directly above showing White Helmets meeting in FSA headquarters has also been removed form You Tube. A back up version of the exact same 2nd video proving such is at the following link:
White Helmets Meeting Directly Links Fake Aid Organization to FSA Terrorist Groups The White Helmets claim to be a non-partisan humanitarian aid group that works towards rescuing all Syrian civilians in trouble spots, however, they are no where to be found in Syrian government controlled areas and are instead only operating in terrorist held areas. This video clearly shows why. They are directly operating as an arm of the Free Syrian Army which is affiliated with dozens of designated terrorist groups throughout Syria.
Tapestry of Terror (Highly Graphic) – White Helmets Exposed As FSA Terrorists Linked With ISIS Read more at https://www.liveleak.com/view?i=b5a_1490533325#lySFgTRiLlMKAEzI.99
White Helmets Exposed -Twitter Feed
Tapestry of Terror – White Helmets Exposed As FSA Terrorists Linked With ISIS
Final pic in this Massive photo cache installment where a White Helmet acknowledges on his own Facebook page that they are Mujahideen (Islamic jihadists)
For much more evidence proving the White Helmets are terrorists, please see the following posts:
Direct Terrorist Collusion: Over One Dozen Videos Capture White Helmets Working Side-By-Side With Terrorist Groups in Syria
"Now You See Me" – Over 100 White Helmet Self-Posted Facebook Images Expose Fake Humanitarian Group as FSA Terrorists Linked with Al-Qaeda
Additional info and links are here:
Tapestry of Terror – White Helmets Exposed As FSA Terrorists Linked With ISIS (Highly Graphic – N.S.F.W.) – https://steemit.com/video/@clarityofsignal/now-playing-on-dtube-tapestry-of-terror-white-helmets-exposed-as-fsa-terrorists-linked-with-isis-highly-graphic-n-s-f-w
Intertwined – The White Helmets and FSA Terrorist Groups – Evidence of Collusion -Part 1 – https://steemit.com/news/@clarityofsignal/intertwined-the-white-helmets-and-fsa-terrorist-groups-evidence-of-collusion-part-1
Numerous US Government Officials Caught On Camera Meeting With White Helmets and FSA Terrorists – https://clarityofsignal.com/2017/07/18/numerous-us-government-officials-caught-on-camera-meeting-with-white-helmets-and-fsa-terrorists/
White Helmets Exposed: Numerous Videos and Photo Evidence Directly Link White Helmets to FSA Terrorists Torture and Atrocities –
https://clarityofsignal.com/2017/01/30/white-helmets-exposed-numerous-videos-and-photo-evidence-link-white-helmets-to-fsa-terrorists-torture-and-atrocities/
The Empire's 'White Helmet' Global Franchise
http://21stcenturywire.com/2018/02/01/white-helmets-channel-4-bbc-guardian-architects-war/
Link to video from image above:
http://21stcenturywire.com/2017/03/02/forget-oscar-give-the-white-helmets-the-leni-riefenstahl-award-for-best-war-propaganda-film/
Link to White Helmets Exposed on Twitter provides daily reports and information on the White Helmets terrorist ruse:
Twitter – White Helmets Exposed
BBC comes partially clean on US, Western and Gulf State support for ISIS – Coalition helps them escape. October 2017
Now Playing on DTube: Roger Waters of Pink Floyd Denounces the White Helmets As "A Fake Organization That Is Openly Creating Propaganda To Hide Some Terrorists That Are Working In That Part Of The World. That's My Belief."
Roger Waters on White Helmets Fake Organization
Roger Waters of Pink Floyd White Helmet Terrorists Speech – HD Version With Psyop Images showing White Helmet terrorists
https://www.bitchute.com/video/81ibVmvxOTK5/